"I'm sorry people, but we simply do not have enough information to proceed."
This article is a stub, meaning it needs more info. You can improve this ScaryThingsWiki article by expanding it.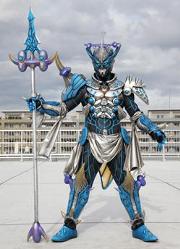 Vrak is soo scary his powers are also scary
Look at him, He has several forms He looks to powerful
Powers and Ability
Edit
Vrak has the ability to make the monsters-of-the-day grow using specialty creatures called "Zombats".
Energy Blasts
Teleportation
Shape-shifting
Vrak first appears to the Rangers as an agent of the Warstar aliens. This is the form he uses the most at first, especially when around Malkor and/or Creepox in the Warstar Spaceship. It is both tree hopper-themed and comet-themed. He is armed with a lance, and he can fire an energy blast with his hand.

Vrak's Earth Armor form is an evolved fighting form reminiscent of the toxic beasts. It is used to battles with the Mega Rangers on Earth, and also around the Toxic Beasts, because he's the intermediary between Malkor and the Beasts. It's Chupacabra-themed.

Cyborg Vrak is the result of Metal Alice's diabolical machinations. She rebuilds him in this form, after he is presumably destroyed in his Earth Armor form.