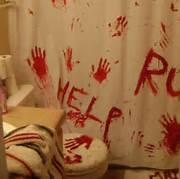 People at a school think the bathrooms are haunted whenever they open a door.
They see creepy things. One person saw a black demonic head with red eyes. Another person saw R.I.P on the door. Another person saw blood in the toilet. Another person saw disembodied finger in the toilet. One person also said a kid died in there. The disembodied black head with red eyes kept appearing. The black head was seen today.
It caused a blackout...
               FIRST SCARYTHING POSTED